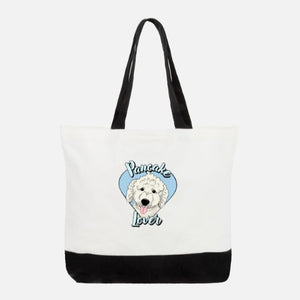 Our dogs teach us so much, if we are willing to learn.  
My cancer journey with Mr. Pancake brought me much heartache and knowledge.  Dog lovers relate to the heartache, it's the knowledge that I want to share.
Filtered water, sunlight, walks, happiness, and original source food.  These are the basics to a happy healthy dog.  But understanding the effects of chemicals, sugar, and yeast and it's relation to cancer is critical for our pups and us! 
It's been a couple years since Mr. Pancake passed, but I continue to find new and exciting things to share. My goal is to spread the word about cancer with dogs and how small lifestyle changes will make a difference.
Including the products we use!  I recently was introduced to this amazing company that creates products in the USA that are non-carcinogenic and healthy!  It's healthy and fun.  
I want you to benefit, too!

This Pancake Lover bag raises funds for our dream foundation to raise awareness for dog cancer AND includes a FREE small sample pack of healthy products.   
Let us take you on a Clean Journey!
PANCAKE LOVER BAG:

Open main compartment with easy access
100% cotton canvas
Double carry handles
Design on both sides

15" x 4.7" x 18.5"
The deluxe cotton tote bag is a modern take on the timeless classic that offers a bit more room and has thicker straps. Lightweight and practical for your new clean journey lifestyle. 
Environmentally conscious and reusable, these bags are ideal for light grocery shopping or carrying a few essentials.